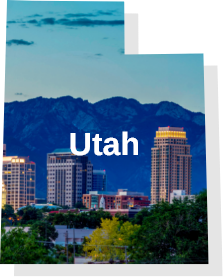 We provide services and support for the 667k+ Utahns with disabilities
The Disability Law Center (DLC) was founded in 1978 as a non-profit organization that advocated for the legal rights of people with disabilities. Since then, we have tackled many challenges and fought for the rights of Utahns with disabilities in many issue areas. We provide a range of services from referrals to class action litigation. Our services are statewide and free of charge.
A few important facts and figures...
We provided individualized legal advice and representation to
In fiscal year 2022, DLC helped
We also provided crucial information, resources, and self-advocacy help to
Our social media, where we share factsheets, urgent disability information, and advocacy education reached over
involved litigation with the potential to impact any current and future Utahns with disabilities facing similar issues
Thank you for taking the time to view the Disability Law Center's (DLC) Annual Reports & Financials. Read about our services and share in some of our successes from last year by viewing our latest report.
DLC services are available free of charge statewide, regardless of income, legal status, language, or place of residence. For more information, interviews, or photos please contact Nate Crippes.
If you are having trouble viewing any Annual Report in PDF format, please contact us at (800) 662-9080 and we can provide you with an alternate format.